Diversified Industries: Commitment to our Community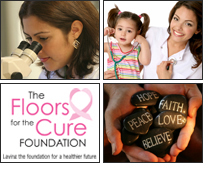 The mission of The Floors for the Cure Foundation is to provide critical funding to organizations committed to the improvement of quality of life. The foundation is specifically interested in supporting science and technology as these are the keys to improving lives around the world through both prevention and cure.

Diversified Industries, Inc. & our Corporate Giving Team will continue to support The Floors for the Cure Foundation through our charitable donations. Additionally, we have and will continue to provide the legal and administrative resources to support the foundation.
The Floors for the Cure Foundation was conceived with the premise that we all have a responsibility to give back to the community.
To that end, a team of trustees, board of directors and volunteers was assembled, all of whom passionately support this mission.
Our team is comprised of individuals and companies who are dedicated to giving back to society. These individuals and companies are all volunteers who have devoted their time and their efforts to helping others.